Sunday 30 July 2023
NEXT WINTER EVENT 28th July 2024
Wedding planning made fun, easy and informative in a relaxed and supportive environment!
Combined local advice will make the whole process streamlined from your guest enjoyment to your element wedding day! You can also choose to go into the draw to win 5k towards your Sunshine Coast Hinterland wedding day.
Hinterland Tourism Sunshine Coast will bring you the Maleny Wedding Festival Trail – Winter 2023 to life on Sunday 30 July 2023 from 10am to 3pm.
On your own venue pass journey will have some amazing and unique Wedding Venues ready to welcome you and showcase their stunning venues along with a variety of fabulous Hinterland Wedding Suppliers.
We welcome couples, friends and families searching for the perfect wedding location. Take the time to tour the venues so you can imagine your personal touches brought to life by the industry suppliers who provide local insights and professional advice designed to make your wedding day everything you've ever dreamed of.
Capturing the magic of Australia's most spectacular wedding venues, floral and style design, fashion, custom transport options, catering, food trucks and entertainment and much, much more.
Be inspired by all the wonderfully creative wedding services on display.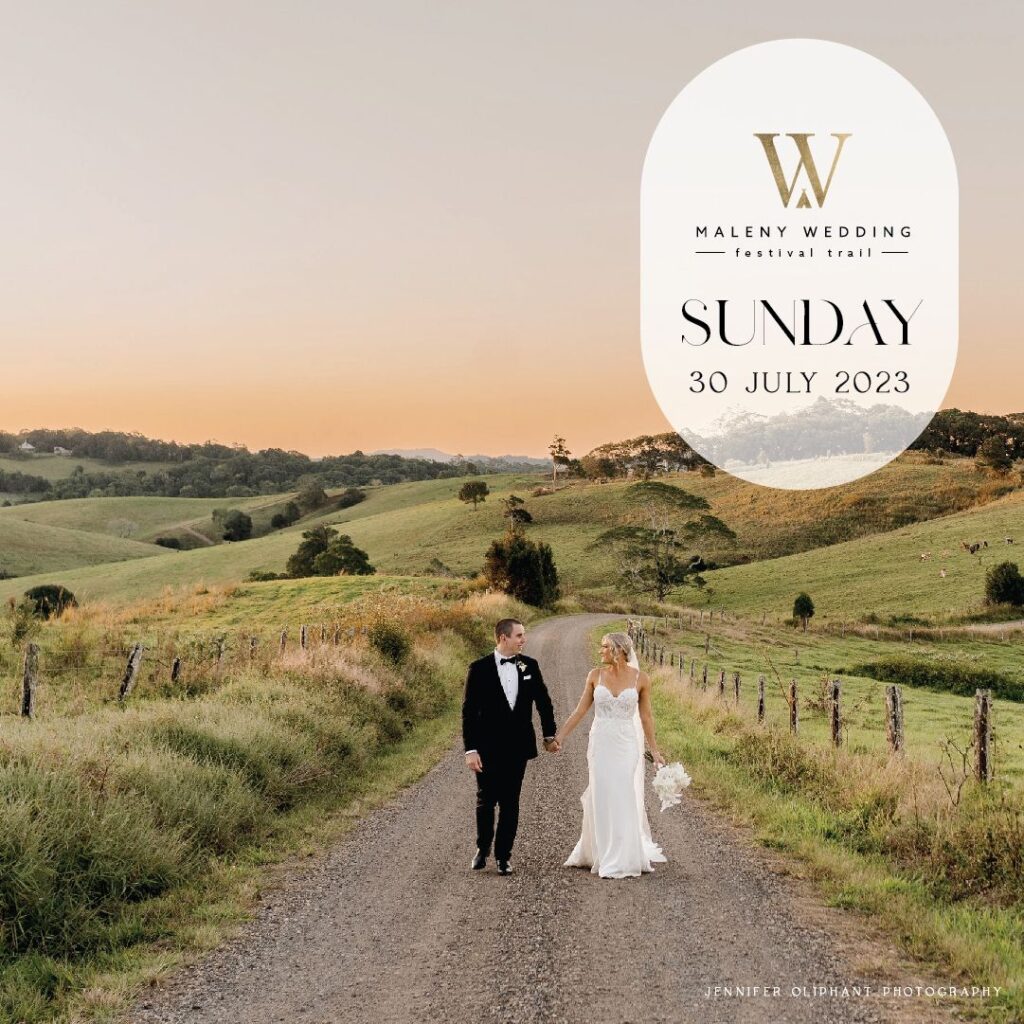 ---
---
Trail
Venues &
Suppliers
Stone Bridge Gardens
Stonebridge Gardens is an open-house venue for viewings on the day
of the festival being a new venue they will have entertainment and you can check
out this fabulous new location.
Burgess Cottage
Open House Accommodation Venue
Secrets On The Lake
Stacey Morris Celebrant
Matt Rowe Photography
Magnolia Ceremonies Maleny ~ Debi Latino~ Celebrant
Faint Artistry
The Little Bar Cart
Esteban (top of the loop)
Events Direct
Moonstone Photography
The Old Dairy
Ceremonies by Emma
Evalyn Parsons Hair
Willow Bud Flowers
Simply Style Co
Deluxe Kombi Service
Bluebird Invitations
Maleny Jewelers
Penfolds Catering
Your Story Celebrant
Lux Transfers
Paul Vercoe Music
The Tipsy Mare
Amy Hayward Makeup
Nic Moorly Video
Spill Wine Maleny
Choc 2 Chilli Cakes
Little Memories Photography – Valerie The Vintage Photo Booth
Gian Music
Tiffanys Maleny
My Film- Paul
Evalyn Parsons Hair
Birti The Bentley
Lisa Brereton Celebrant
Lulu Beauty
Sunlit Studios
Cocoa Cakery
Maleny Food Co
Elite Exec Transfers
Bluebird Invitations
Bridle Guesthouse
Maleny Jewellers
Wylde Folk Photo
Stay Safe Transfers
First Class Pet Assistants
Event Letters
Montville Realestate – Accommodation Bookings
Jennifer Oliphant Photography
Laura Clair Celebrant
Luke De Gee Celebrant
Tay and Francis Photography
Dave West Music
John Veloso Entertainment
Flaxton Gardens
My Film- Paul
Ben Connolly Photography
Nicola Laufer Photography
Peninsula Pop Ups
Say it with Lights
Dan Ford Celebrant
Amber Gillam Celebrant
Caity the Celebrant
Ochre Florals
Maple Weddings
Rolling Scissors Mobile Hairdresser
Life and Love Photography
Brooke Carlyon
Stellar Hire
The Famos Music
Stay Safe Transfers
Ceremonies By Bernadette
Things To Do Sunshine Coast
Just A Bite Cakes
Humble Gift Co
Alan Hughes Photography
Prim n Proper
Halo Portraits
Renee Towers Photography
Love Note Live Entertainment
Sunshine Weddings
Goodwater Ridge Maleny
Good2eat Catering
Loveworx Celebrant
October Falls Photographer
Created With Joy Art
Maple Weddings
Forever More Collective
Snow In Fernie
Rolling Scissors Mobile Hairdresser
Zoe Reghenzani Photography
Iris Faith Photography
Life And Love Photography
Melita McDonnell Makeup
Soda Photography
ZO&CO Cakes
Hayley Hart Celebrant
Fiesta Flora Florist
MMP Events
Maleny Country Estate
Sperry Tent
Elk and Fir photography
Bertino Brothers
Celebrate with Shelby
Lorraine Wright Celebrant
Nicky Jane Celebrant
Shellbells Photography
The Famos
Sweet Meadows
will join us in January
Providore Privee at the January Festival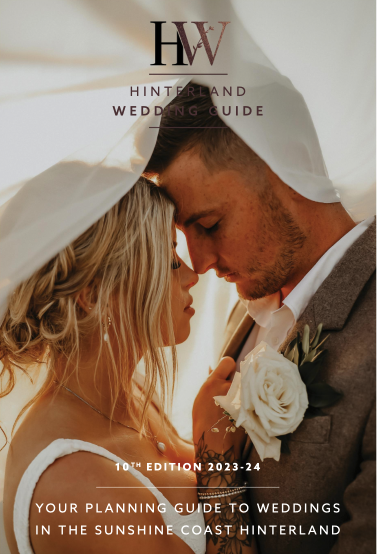 Suggested Itinerary
Heading North
Head to the Sunshine Coast on the Bruce Highway turn onto Steve Irwin Way to Landsborough. Follow the Landsborough Maleny Road to Maleny. Your first stop is Good Water Ridge, then drive onto The Old Dairy,Maleny and Tiffanys Maleny. Next you go through the township of Maleny and out to Maleny Country Estate. The next part of the trail takes you to just before the township of Montville at Secrets on the Lake, then onto Flaxton Gardens, finishing at the beautiful town of Palmwoods and our new open house venue Stonebridge Gardens.
Heading South
Come in from the Bruce Highway via Palmwoods to view the Open Venue, Stonebridge Gardens, then drive up Phillips Road to Flaxton Gardens. Make your way through Montville and down to Lake Baroon and Secrets on the Lake. Next turn right towards Maleny and Maleny Country Estate just out of Maleny Township heading west. Then heading East to Tiffany's Maleny, The Old Dairy Maleny and Good Water Ridge Maleny
COVID-19 Safe Event
Please:
stay at home if unwell or have a cough, fever, sore throat, fatigue or shortness of breath.
seek assistance if becoming unwell during the event (locate Venue officials)
understand maintaining physical distancing requirements is the individual's responsibility.