The Hinterland is often discovered in self drive holidays on our most scenic tourist drives.
Our Hinterland is the the closest proximity, hinterland to the coastline, on the whole south eastern seaboard of Australia, placing you in the heart of the region, in close proximity to everything on offer in the Sunshine Coast.
Should you require transport to the Sunshine Coast Hinterland, we do have a team of transport providers ready to pick you up from the Brisbane Airport which is just over 1 hour from our regions of Maleny and Montville or 45 minutes to Glasshouse. There is also the Sunshine Coast Airport which is 30 – 45 minutes in travel time. Should you wish to self drive all the major car rental agencies are located at the airports.
As taxi's and ubers are not the most reliable in our region hence we have developed a whole professional team at your service.
If you are visiting by rail from Brisbane to Landsborough Station and require local bus transport click into our Welcome Guide for an overview on transport details and your Ultimate Guide to the Hinterland.
If you would like a personalised tour we have a whole range of providers who can show you the region from gourmet tours, brewery and wine tours to taking in all the scenic sites when you visit the Sunshine Coast Hinterland.
If it is an experience you are looking to add to your stay, our Hinterland Experiences will give you all the inspiration you need to stay and play in the Sunshine Coast.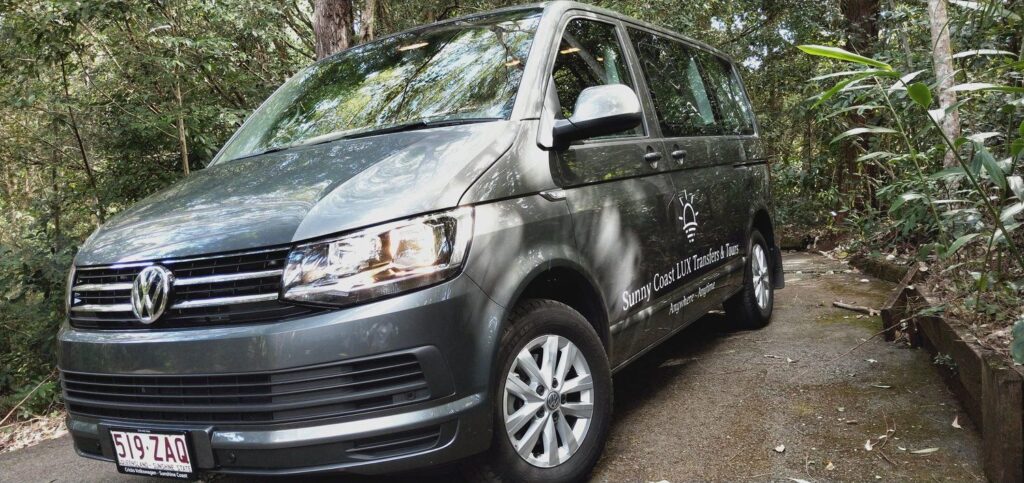 Sunny Coast LUX Transfers
Chauffeured transport options personalised to your group our needs with Sunny Coast Lux Transfers. You may need an airport transfer from Brisbane airport or the Sunshine Coast airport to your accommodation location. They can also help with group, corporate and wedding transfers and be at your service during your stay.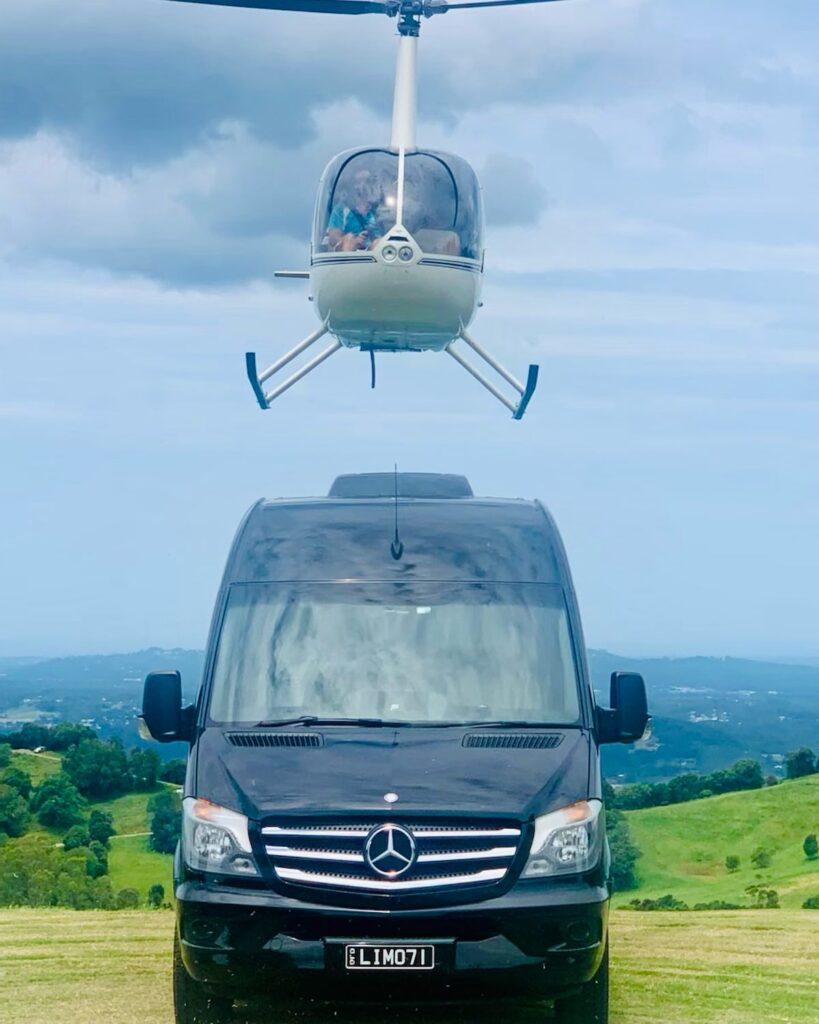 Elite Executive Transfers
When you wish to arrive in style for bespoke tours & transfers in the Mercedes Benz Limo Van with Elite Executive Transfers . Offering professional airport pickups, restaurant transfers and specialised wedding party, on the day service. Tony is the consummate professional loved all over the Sunshine Coast as the host with the most! He makes the journey on the way to your chosen destination a pleasure.
Luxurious & spacious seating up to eleven passengers, combined with a helicopter transfer from Oceanview Helicopters with Karl and Rod ,and you have a magnificent entrance to any location you choose in the Sunshine Coast Hinterland. A VIP experience is assured when you have this team on your side.
Servicing the Sunshine Coast and Brisbane areas.
You may also like a grand entrance or exit from your wedding location, straight to your honeymoon.
Mystic Mountain Tours
Tours, transfers and ultimate gourmet tours of the Hinterland, how perfect does that sound?
Lynn and Andrew also happen to be the most experienced team for wedding guest transfers in the whole of the hinterland. You provide the locations and they will get your guests, to and from your chosen wedding venue, on time with care.
Mystic Mountain Tours is based in the naturally scenic, friendly & diverse communities of the Sunshine Coast Hinterland, Queensland. You will feel the local support from these caring super hosts.
Sunshine Coast tours feature the local food makers of our region, taking in the unique vineyards & craft brewers of Maleny & Montville.
As locals operators over over 17 years Mystic Mountain Tours can provide you with special entry, interesting insights & fun back stories you would never find on your own right across the hinterland.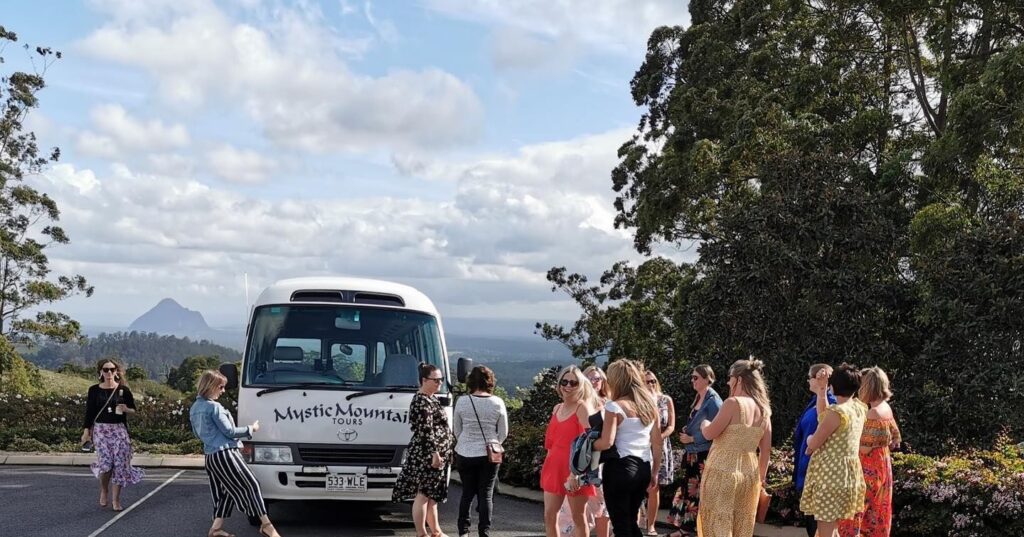 Oakcorp Extreme Super Stretches
Arrive in style in a modern super luxury stretches available for weddings, formals and other occasions.
Professional chauffeurs handpicked and trained to help make your whole experience exceptional for transport in the Sunshine Coast Hinterland.
Deluxe Kombi Service
The most fun way to show up in the Hinterland …"Something Blue" just perfect for me and you!
Deluxe Kombi Service touring the Sunshine Coast, cruising the coastal roads, to the most fun ever arrival at your wedding!
Your hosts Michael and Jenny are the supreme relaxed, loveable locals who help make your day into so much more, just by showing up in their beautifully restored Red and Blue Kombi's.
The service is exceptional and we have always noticed how happy people are when riding in the kombi, especially when you can turn up the tunes and have a cheeky stand up though the skylight of the kombi roof for your photos.
If you want to be lsmiling all day, this is the company for you!
Beyond Transfers
Wherever you need to be – We'll get you there!
When you need the peace of mind of a pre booked exclusive to you service to get you there on time with out any stress Beyond Transfers are your complete direct transport service provider.
Providing comparable rates to taxi and ride share company's but with that exclusive touch. Should you need airport pickups, transport to attractions and events or a personal itinerary from Noosa to Brisbane and the Gold coast to our Sunshine Coast Hinterland, get in touch with Beyond Transfers.
Joel's Jouneys
Based in Noosa you are just going to love Joel! He is a regular site in the Sunshine Coast Hinterland on tour. You may have worked out that the beach to the Hinterland is all very accessible, to enjoy the best of both worlds when staying on the Sunshine Coast.
Whether it's an adventurous outing at the TreeTops Challenge, a visit to Australia Zoo, dinner with friends or rocking out at one of the many gigs on the coast, Joel's Jounerys has got your covered. Return transfers for any of their amazing experiences is another service they offer, be in the Noosa region, the Sunshine Coast or Hinterland region, a trip to Brisbane, or even the Gold Coast.
The Artisan Village tour of Maleny and Montville with a little wine tasting is always popular or the Eumundi Market Tour Deluxe with VIP access and gourmet lunch to one of the most loved markets in all of Australia every Wednesday and Saturday.