Welcome to one of the most loved wedding destinations in Australia.
The Sunshine Coast Hinterland welcomes couples and their guests from all over the world to our wedding venues nestled in nature.
"Welcome to my heart! Let me open the door."
Renowned for its welcoming hospitality, hypnotic rolling countryside vistas, mountain to ocean views and laid-back lifestyle.
Maleny to Flaxton and out to Kenilworth is the golden triangle of love in South East Queensland and is one of Australia's most sought-after destinations for exceptional wedding venues and service providers.
An earthy, spiritual escape for rejuvenation of the soul, an artful hands of the land honesty, and a colourful group of villages that take you in their embrace – The Sunshine Coast Hinterland is a perfect destination for weddings or a weekend escape.
An intrinsical collective of talented souls and service professionals, this tiny country hamlet has grown into a mecca for weddings and romantic stays, with some of the industry's most prominent talent calling the region home.
"The soul should always stand ajar, ready to welcome the ecstatic experience." – Emily Dickinson.
Tiffany's Maleny
The chapel of love with the most magical Dreamtime views in the land gazing out across the countryside to 13 icons of Queensland, the Glasshouse Mountains.
For your ultimate Reception and Ceremony, all in one glorious quality location, Tiffany's Maleny will impress.
Snuggled into the hillside, the chapel has uninterrupted views from the glass-backed viewing wall to the Glasshouse Mountains as your ultimate glamour ceremony backdrop.
Surrounded by photography heaven with One Tree Hill, Agapanthus Lane and Mary Cairncross Reserve moments down the road.
With an entire team to support you with an in-house florist, stylist and chefs, start dreaming of classic elegance and silver service all the way.
Type of Venue: Classic Chapel Boutique, Garden Gazebo and Views
Location: Maleny
Address: Sunshine Coast, 409 Mountain View Rd, Maleny QLD 4552
Phone: 07 54 942825
Social: Tiffanys Maleny
The Old Dairy
This marvellous location is one of the premium Maleny Wedding Venues, that could be taken straight from the pages of Vogue and Country Style magazine as the inspiration for your classic country wedding.
Recently built in what used to be an old dairy in the lush countryside on entry to Maleny township with one of the best sunset locations, looking down the valley from the ceremony platform and bell tower.
When you want to impress with a country-style destination wedding suitable for your exclusive and private full wedding weekend escape, this is the one.
Gazing out over 90 acres of well-manicured grounds with views of Mount Beerwah and the most stylish cabin accommodation on site.
A large stone fireplace is in the reception room, an outdoor fire pit and the most charming bar in the old dairy section of the complex.
The Old Dairy is exclusive, with a limited number of weddings taken each year; they provide a unique backdrop, and you bring the style and catering. The Old Dairy can be tailored to your needs.
Type Of Venue: Elegant, DIY, Country Style
Location: Maleny
Address: 621 Landsborough Maleny Rd, Maleny QLD 4552
Phone: 0457 188 881
Flaxton Gardens is one of the regions iconic Hinterland wedding venues and a special destination since inception as the first pottery house and tea house of the area.
A favourite rustic elegant wedding venue with expansive views of the whole Sunshine Coast, hosting up to 280 guests, making it ideal for large cultural weddings and those with a big beautiful guestlist.
Flaxton Gardens is a premier events restaurant in the heart of the Sunshine Coast Hinterland. They are perfectly positioned between Maleny and Noosa with magnificent sweeping coastal views all the way to Tangalooma Island, the ideal location for your next celebration, corporate event or wedding celebration.
The grounds have a stunning reception interior with the stone-washed winery and barrel room, expansive grounds and ample parking. You can also venture out onto the Tuscan Terrace or dine under the stars in a clear fairy-lit marquee; the choices are endless, from intimate affairs to extravaganzas.
Type of Venue: Marquee, Winery, Outdoors, Indian Wedding Specialist, Function Centre, Rustic Elegant
Location: Flaxton
Address: 313-327 Flaxton Drive, Flaxton QLD 4560
Phone: 07 5445 7450
Social: Flaxton Gardens
It is like transporting your guests to a whole other exclusive nature universe.
If you are after something a little different that not everyone has discovered, this is the to-go if it is high-end in total privacy you desire. We will let you in on a secret, famous people have had their weddings at this exclusive location for quiet elegance and professional privacy.
Start visualising unique treehouses in the rainforest , spa baths and individual fireplaces suspended in room.
Tucked away on the foreshore of Lake Baroon, Secrets on the Lake is the Sunshine Coast hinterland's most iconic eco wedding destination and honeymoon escape.
It is an artistic haven in the rainforest with carved decks of many creatures in the balustrade work; handcrafted clay lanterns mark the paths, and the timber swing seats and stain glass in the treehouses create a magical environment like no other. Cascading water, rock ponds, bridges and custom ceremony decks are fringed by the lush rainforest and garden plantings. There are many stunning locations to choose from for your wedding ceremony, the garden decks, the romantic chapel-like Lake House, or the elegance of the green lawns by the lake.
Couples can decide whether they want a daytime reception on The Lakehouse deck or a night time reception on the deck of our Treehouse Restaurant looking out over the sunset on the lake.
Type of Venue: Nature, Eco Rainforest, Intimate, Elusive
Address: 207 Narrows Rd, Montville, QLD
Phone: 07 54785888
Social: secretsonthelake
Maleny Country Estate
From the moment you drive into the countryside you will start to feel the rural Maleny lifestyle envelope you. From the magnificent Maple tree lined entrance that is lush in Summer and golden like an avenue of fiery Autumn in May. To be greeted by the hand crafted Swiss chapel, rolling farmland vista and magical sunsets. Nestled on 185 acres in the Sunshine Coast Hinterland, Maleny Country Estate is the perfect space to escape to!
Perfect for weddings, events and retreats, accommodating up to 70 guests on site in unique country glam accommodation so you can host most of the wedding party with you onsite.This is the one for country chic white sperry tents against verdant green backdrops and the ultimate large scale property vibes only 10 minute from Maleny. Think outdoor baths, stone cottages, horses grazing in the fields and warm fire pits to stargaze under.
Address: 366 Reesvelle Road, Reesvelle, QLD
Phone: 0497 600 394
Social: malenyweddings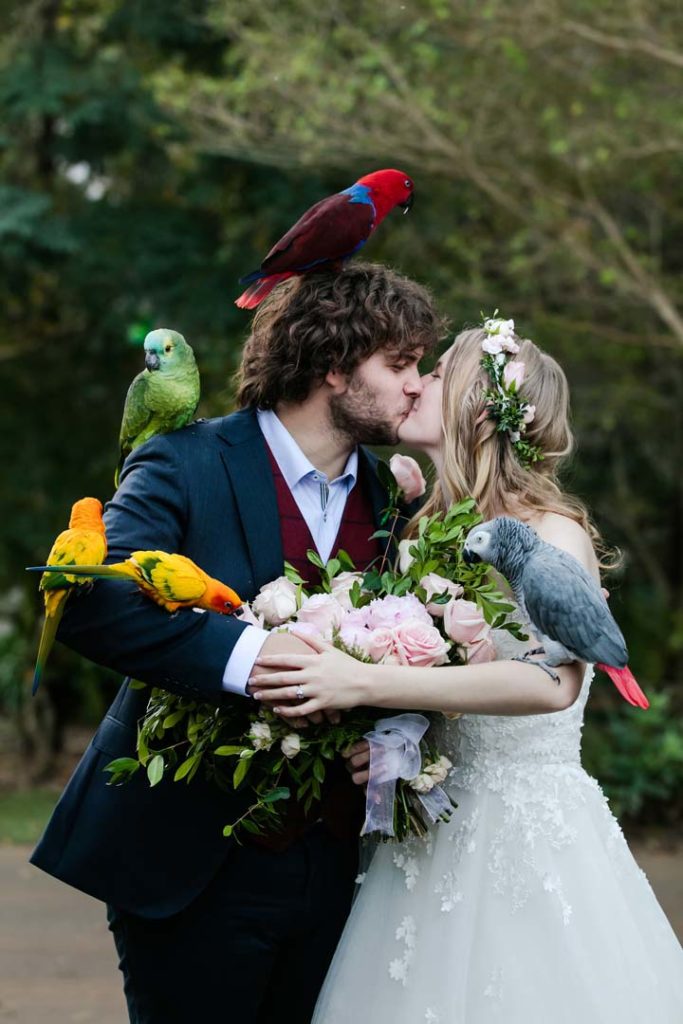 Maleny Botanic Gardens and Bird World
Step into a garden paradise with the best backdrop in Queensland.
If you are a lover of the Glasshouse Mountains, this is your dream location as they dominate the view on entry to this picturesque venue in Maleny.
For the most scenic images and environment, you could imagine for your Wedding, Elopement or wedding photography.
Proposal setups are also very popular for surprising the one you love at the gardens, and you can hire someone to do it all for you!
You can also take advantage of unique images with their delightful bird friends on your day if you are a bird lover!
Whether you are an avid botanist, a nature-lover or cherish the peace and tranquillity of beautiful gardens and rolling landscapes, a special celebration at Maleny Botanic Gardens & Bird World is one to discover.
Type of Venue: Garden, Mountain Views, Bird World
Address: 233 Maleny – Stanley River Rd, QLD
Phone: 07 5344 0010
Social: malenybotanicgardens
Good Water Ridge Maleny
Meet the new venue on the block, hand crafted out of stone and render; you will see the ruins rising out of the earth framed by the setting sun on a private oasis in Maleny with Mt Beerwah as its backdrop.
Imagine a European village with a picturesque, whitewashed stone chapel and belltower, a modern reception venue with large expanses of glass and quality onsite accommodation villas.
Imagine a historic handmade ruin with arches of stone that can host 80 guests in style for a wedding ceremony, afternoon canapes, or outdoor dining under the stars.
Stay in your private wedding village, arrive the day before and have time to settle in and relax with your whole crew.
On your special day, let everything come to you. Then it's a short stroll to the ceremony – the chapel or perhaps a setting at the forest's edge. One of the many locations will suit your style in this custom-made wedding hamlet; move in for the weekend and enjoy the time of your life!
Situated on 100 acres of rural pasture and remnant rainforest, Good Water is the original homestead site from which the pioneers settled the Blackall Range. We can see why it was so desirable for its vistas, and the water must have been so good for the region's early pioneers.
Type of Venue: Rural, European Village, Whitewashed stone chapel, Boutique
Address: 879 Bald Knob Road, Maleny QLD
Phone: 0428 934 620
Social: goodwater_ridge