Sat 13 – Sun 14 January 2024
Save the date
Hinterland Tourism Sunshine Coast is bringing the 2024 Summer Maleny Wedding Festival Trail to life on Saturday 13 and Sunday 14 January 2023 from 10am to 3pm each day.
We have amazing and unique Wedding Venues, ready to welcome you and showcase their stunning venues along with a variety of Hinterland Wedding suppliers and businesses, all coming together as one Hinterland Wedding destination from Maleny to Palmwoods.
Lock in the date and register soon to attend this free event, and enter to win amazing prizes!
We welcome couples, friends and families searching for the perfect wedding location. Take the time to tour the venues dressed in their bridal finery, so you can imagine your personal touches brought to life by the industry suppliers who provide local insights and professional advice designed to make your wedding day everything you've ever dreamed of.
Capturing the magic of Australia's most spectacular wedding venues, floral and style design, fashion, custom transport options, catering, food trucks and entertainment and much, much more. Be inspired by all the wonderfully creative wedding services on display.
Photo above by Sunlit Studios
OUR PARTICIPATING VENUES JANUARY 2024
THE CROCODILE HUNTER LODGE by Australia Zoo (By Registered Appointment)
FLAXTON GARDENS
GOOD WATER RIDGE MALENY
MALENY COUNTRY ESTATE
MALENY ORCHARD
MONTVALE
STONEBRIDGE GARDENS
TIFFANYS MALENY
THE OLD DAIRY
TRANQUIL MALENY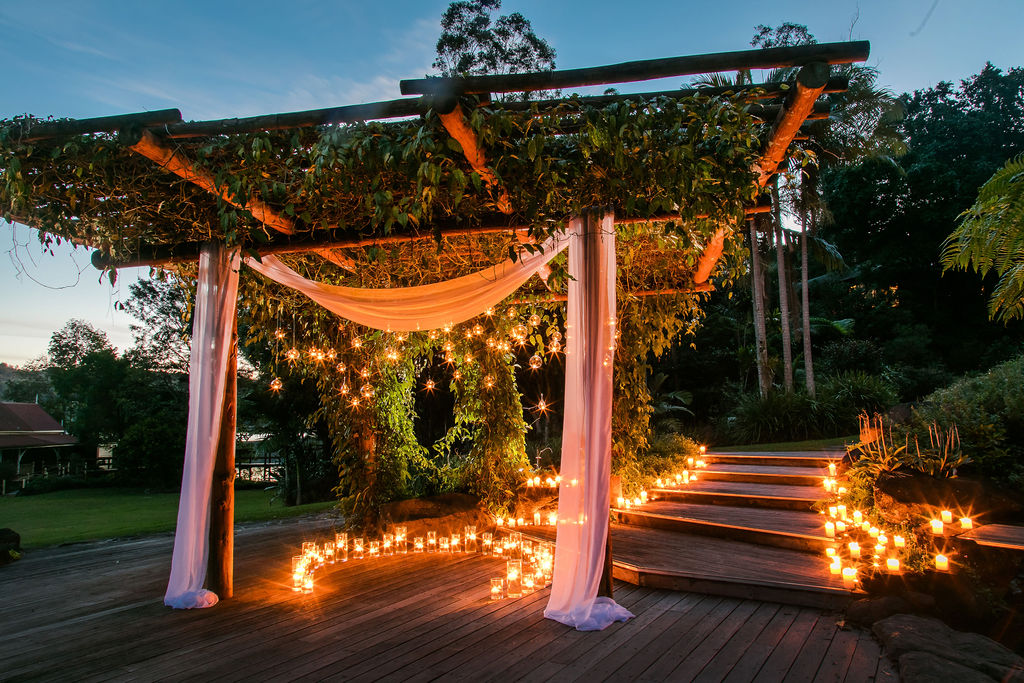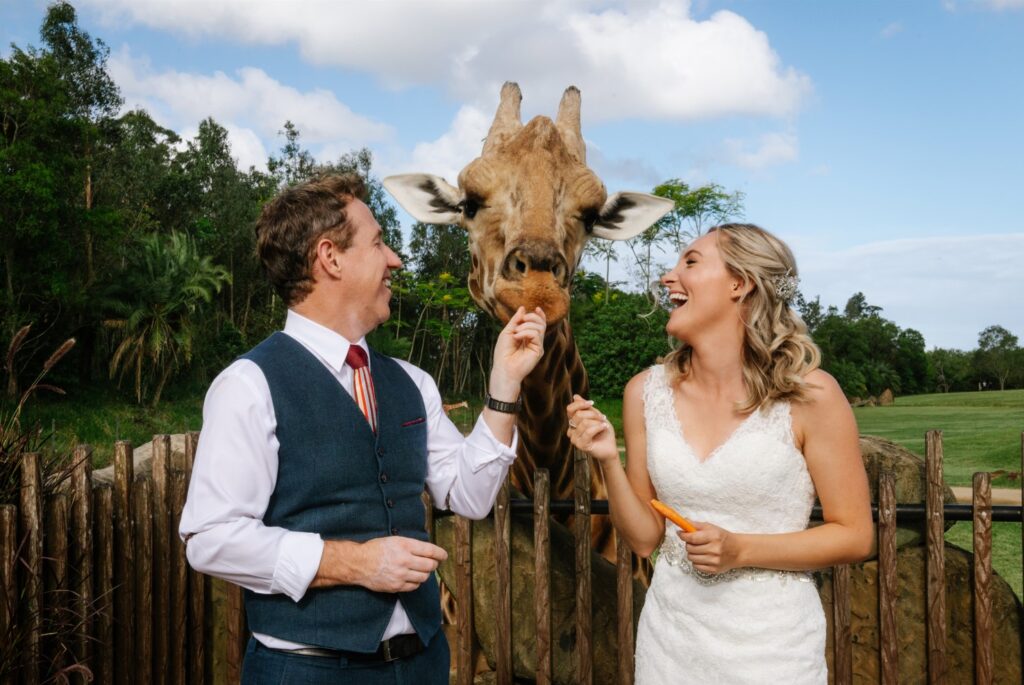 THE CROCODILE HUNTER LODGE – Visit By Appointment https://www.thecrocodilehunterlodge.com.au/weddings
Prizes to be Won On Opening
2024 OPENING REGISTRATION DATE TBC
Participating Suppliers For 2024
The Old Dairy
Todd Hunter McGraw Photography
Penfolds Catering
Kombi Photobooth
Vintage Bar Co
Simply Style Co
Sommer Saunder Celebrant
Maleny Jewellers
Lux Transfers
Ceremonies By Emma
Little memories photo/photobooth
Bluebird Invitations
Bertino Brothers
Shae Estella Photography
Willowbud Flowers
Makeup by Amy Maree
Luke Middlemiss Photography
Evalyn Parsons Hair
Chocolate 2 Chili
Mears Productions
Created with Joy Art
Official Gian Music
Tiffanys
Paul Collier Entertainment
Wylde Folk Studio
Tay and Francis Photography
Sunlit Studios Photography
Event Letters
Bridle Guesthouse
Lisa Breteton Celebrant
Jennifer Oliphant Photographer
My Film
Lulu Beauty
Suzanne Riley Celebrant
Deelish Cakes
Stay Safe Transfers
Coastline Celebrant
Cupcake Elegance
The Famos & Co
Evalyn Parsons Hair
Calibre Workshop
Luke de Gee Celebrant/MC/DJ
Engle End Farm
In the Booth
Classic Wedding Cars
Flaxton Gardens
Alan Hughes Photography
Say it with Lights
Nicole Lauffer Photography
Dave West Music
Graham Hobson Entertainment
Maple Weddings
Dan Ford Celebrant
Brooke Carlyon
Ben Connolly Photography
Life and Love Photography
Caity Celebrant
Courtney Lee Photo
The Humble Gift Co
Peninsula Pop Ups
Eagle End Farm
Stay Safe Transfers
Maleny Jewellers
Annie Dawson Photo
Table Art
Rolling Scissors
Love Note Music
Just a bite cakes
Melita McDonnell Makeup
Goodwater Ridge
White Parrot Film & Photography
Maple Weddings
The Famos & Co
Wylde Folk Studios Photography
MMP Events
Stacey Morris celebrant
ZO&CO cakes
Mountain Top Films and Wildflower
Elk & Fir photography
Adam Straney Celebrant
Montvale Weddings
Sunshine Weddings
Ochre Floral
Nikki Bowden Celebrant
Loveworx Celebrant
Shellbells Photography
Tawny Photography
Call me Will
Maleny Country Estate
Tipsy Mare- Naomi Schremmer
Tim Roberts Illustrator
Lovebird Weddings
Kashmiah
Sperry Tents Sunshine Coast and Tipi Luxe
Maleny Orchard
Dream Styling
Tranquil Park
Open House Viewings
Secrets on the Lake Open House Venue Viewing
Stone Bridge Gardens Open House Venue Viewing
Rustic Olive Open House Accommodation Viewings
The Ridge Maleny Open House Accommodation Viewings
Burgess House Open House Accommodation Viewings
Summer Maleny Wedding Festival Trail 2024 Google Maps
Heading North
If you are driving up from Brisbane we suggest you come up the Bruce Hwy, take the Steve Irwin Way to The Crocodile Hunter Lodge (by appointment only) Landsborough -email for your appointment https://www.thecrocodilehunterlodge.com.au/weddingsand
Head up to Maleny on the Landsborough-Maleny Rd. Turn left onto Bald Knob Rd for approx 1km, and arrive at Goodwater Ridge Maleny.
Head back along Bald Knob Rd, turn left onto Landsborough-Maleny Rd to visit The Old Dairy Maleny on your left, 1.5km's from the Bald Knob Rd turn off.
Then it's onto Mountain View Rd, Maleny to visit Tiffany's Maleny, Maleny Orchard and Tranquil Maleny, then take a drive out to Maleny Country Estate in Reesville.
Then head back through the Maleny township, take the Maleny-Montville Rd and make your way over to Montville and down Western Avenue to Secrets on the Lake, and back onto Main Street to Montvale at Montville.
Drive onto Flaxton Gardens on Flaxton Drive and finish off your day visiting Stonebridge Gardens in Palmwoods, on your way back to the Bruce Highway.
Heading South
If you are coming down from the Gympie region or from the Coast we suggest coming in via Palmwoods and making Stonebridge Gardens your first stop on Rifle Range Road.
Then continue into Montville to visit Montvale at Montville on Main St, and then head to Flaxton Gardens on Flaxton Drive.
Driving back through Montville, head down Western Avenue and The Narrows to Secrets on the Lake.
Following Maleny-Montville Rd across to Maleny, continue onto Reesville to view Maleny Country Estate.
Drive back towards Maleny and take Mountain View Rd, Maleny to visit Tranquil Maleny, Maleny Orchard and Tiffany's Maleny.
Continuing down Landsborough-Maleny Rd you will need to go past The Old Dairy Maleny (on your right)and then perform a U-Turn at the lookout to come back to access the property.
Then continue down the Landsborough-Maleny Rd and take the Bald Knob Rd turnoff (1.5kms after The Old Dairy) on your right. Travel approx 1km and you will find Goodwater Ridge Maleny on your right.
If you have made prior appointment you would then reach The Crocodile Hunter Lodge – email for your appointment https://www.thecrocodilehunterlodge.com.au/weddings
COVID-19 Safe Event
Note – This is a COVID-19 safe event and each Venue will be operating under their own QLD Health COVID Guidelines.
Please read the current QLD Heath COVID Restrictions before registering for the 2024 Summer Maleny Wedding Festival Trail – QLD Health COVID Restrictions
Please:
stay at home if unwell or have a cough, fever, sore throat, fatigue or shortness of breath.
seek assistance if becoming unwell during the event (locate Venue officials)
understand maintaining physical distancing requirements is the individual's responsibility.